Send Inquiry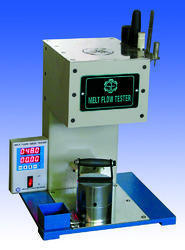 Product Description
Melt Flow Index Tester is used to know the melt flow properties of a polymer by extruding it in a molten state through a calibrated orifice, using reference weight. These indexers are used extensively in production and quality control for better consistency. The machine is manufactured as per ASTM D-1238
Instrument with following accessories will be supplied Digital stop watch, Temp. Controller (PID), Piston, Orifice remover, Barrel Cleaner, Orifice Cleaner, Scoop, combined weight of 2.16 Kgs. and 5.0 Kgs.
Specification:
Max. Temp. Ambient to 300 C
Resolution: 0.10 C
Accuracy: +/- 0.20 C
Timer 0-99.9 min.
Temperature controlled through PID Controller.
SHAMBHAVI LAB INSTRUMENTS